Company Presentation (ICE): Phenom People
Event date

Time

12:00 - 12:45

Type

Career
1, 3, 4, 5

Location

Online

Price

€

0.00
You need to be logged in to signup for SMW events
Sold out
This event is NOT sold out
---
Start your career at Phenom with an internship or graduate role
Internship: Customer Success Management Intern
Does communicating with others come easy to you? Do you have a way with words? Are you on top of things, detail-oriented, and excel at streamlining processes? You are exactly the person we are looking for to join our PHENOMenal Customer Success team!
Graduate role: Business Development Representative
Part storyteller, part researcher– you're connecting people and companies to Phenom by understanding their needs and sharing how Phenom can contribute to that. You'll perform a vital role within our business development team developing outbound leads – via emails, direct messages, and phone calls – into qualified opportunities for our Business Development Directors. This is an ideal role if you love achieving goals, using complex market research, and focusing on continuous learning and improvement in a fast-paced organization.
Language requirements
You need to be fluent in Dutch, French, German or one of the Scandinavian languages.
We offer
Above market base salary
Generous commission structure (for sales positions)
Unlimited holidays
MacBook Pro
Reimbursement of commuting & internet costs
Pension Plan
Becoming a part of one of the fastest-growing HR software companies
Fun & inclusive working environment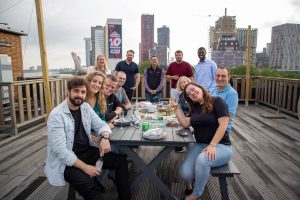 Presentation
We will be talking about our phenomenal career opportunities within Phenom and our #NotNormal culture!
Alongside that, our very own Talent Acquisition Specialist, Paula Gozdalik, will drop useful Tips & Tricks on how to have a stand out CV and LinkedIn profile, and how you could become part of the Phenom Phamily. Our Erasmus Universiteit Rotterdam alumni, Kim Bouts, will talk about her experiences at Phenom and how she went from an eager university graduate to Sales Development Team Lead at one of the fastest-growing private companies in the annual Inc. 5000 list!
We will talk to you about our phenomenal journey from a small start up to an international company with over 1250 employees — and counting — serving over 400 customers across 19 countries. We will also showcase how our amazing AI-powered Talent Experience Management (TXM) platform helps: candidates to find the right job, employees to grow and evolve, recruiters to discover top talent, and managers to build teams faster.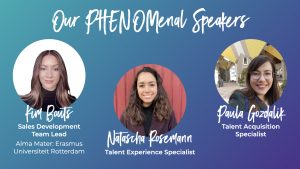 What we look for
We look for people passionate about technology
Curious with a strong desire to grow within our organization
Ability to organize, prioritize, to fulfill your responsibilities
Why are we interested in internationally oriented RSM students?
We are an international company and we have no plans to stop expanding globally. So we need people who are onboard and open to dealing with a culturally diverse environment.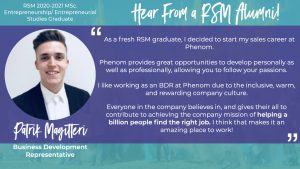 About Us
Phenom is a global HR software company with the purpose to help a billion people find the right job. Our Talent Experience Management platform is helping customers like Philips, Booking.com, DHL, Thuisbezorgd.nl, and Microsoft to leverage Artificial intelligence in Talent Acquisition.
Phenom TXM unifies in a single SaaS platform every experience in the talent lifecycle. Candidates are finding the perfect fit faster. Recruiters are creating meaningful moments. Employees are engaged and evolving. Managers have more actionable insights than ever before.
Phenom is not your average workplace — we take pride in building a culture that is #NotNormal and celebrates all of the ways our company and employees are unique. We believe people should be happy and inspired by their jobs just as we are.
Also, we are one of the fastest-growing technology companies in the 2020 Deloitte Technology Fast 500. With 900+ employees, the Phenom team is headquartered in the greater Philadelphia area, with offices in Canada, India, Israel, the Netherlands, Germany, and the United Kingdom, serving 300+ global employers.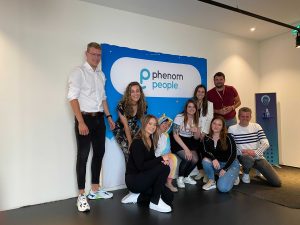 Specialism: Computer Software (HR/Talent Acquisition solutions)
Company website & Career website:
https://careers.phenompeople.com/us/en/job/PHENA0059-P-100349-external/Sales-Development-Representative-Belgium
 Company Size: 900-1000
Headquarter: Philadelphia, US & EMEA HQ: Rotterdam
---
This event is on a first-come first-serve basis
Event date

Time

12:00 - 12:45

Type

Career
1, 3, 4, 5

Location

Online

Price

€

0.00
You need to be logged in to signup for SMW events
Sold out