Company Presentation (ICE): GEP
Event date

Time

17:00 - 17:45

Type

Career
1, 2, 3, 4, 5

Location

Online

Price

€

0.00
You need to be logged in to signup for SMW events
Sold out
This event is NOT sold out
---
Careers in Consultancy with GEP Consulting – actively recruiting!
We are recruiting for Consultancy roles at our European offices in London, Amsterdam, Cologne and Prague. Our requirements:
Must be business fluent in English.
Fluency in German, French, Dutch, Spanish would be a big plus!
Excellent Bachelor's or master's degree.
Exceptional analytical and communication skills.
Ability to travel at least 25% of the time.
Our presentation includes an overview of the company, information regarding available roles, the recruitment process, personal experiences of life at GEP and Q&A.
Vacancy: Associate – Consulting
As an Associate, you will be involved in multiple phases of a consulting engagement, from initial research through final implementation. Almost immediately, you will join a project team, working at a client location, sharing your ideas, solving problems and providing solutions in the areas of procurement and supply chain management.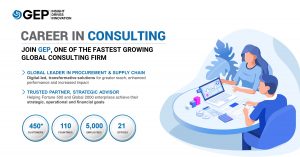 What we offer
Our commitment is to provide our customers with the most creative, most effective and highest value end-to-end procurement and supply chain solutions. Our strategy to achieve this goal is simple: via customer centricity. The customer is always at the center of our business.
Extraordinary outcomes are achieved by extraordinary people. Time and again, our clients tell us that the passion, energy and commitment to results that GEP people demonstrate every day make all the difference.
So we organized our company to best enable our people to achieve outstanding results for clients. We're flexible, innovative, open to new ideas. This ethos shows up in innovative products and services that enable our clients to rethink, even reset, their expectations.
Being a GEPper means you're part of a team. Part of the family. What it means to be a GEPper might be one thing to you and another thing to the person sitting next to you. But everyone's contribution makes up the growing company that is GEP ― a place where innovation and results matter.
We have internships as well as full time positions at Associate and Senior Associate level.
Why are we interested in internationally oriented RSM students?
GEP has both offices and clients across Europe, Asia, Africa and the Americas. To best achieve our clients' goals, we ensure we have the best global delivery team in place to support our customers internationally.
About Us
GEP is a global leader in procurement, supply chain and strategy consulting. Since 1999, GEP has been a trusted partner and strategic advisor for Fortune 500 and Global 2000 enterprises, helping them achieve their strategic, operational and financial goals.
GEP operates across industries including but not limited to Energy & Utilities, Oil & Gas, Industrial Manufacturing, Technology, Chemicals and Consumer packaged goods.
Headquartered in Clark, New Jersey, GEP has 21 offices and operations centers across Europe, Asia, Africa and the Americas, enabling our 5000+ employees to support our customers internationally.
GEP is the fastest growing procurement and supply chain solutions firm. We are recognized worldwide for our strategic procurement consultancy, and our award-winning software solutions. In 2020, GEP SMART was recognized as the leader procure-to-pay suite on the Gartner magic quadrant.
Extraordinary outcomes are achieved by extraordinary people, and there are a lot of opportunities for lifelong learning and self-development. Many employees are also involved with our GEP groups: Women@GEP, African Ancestry Network, GEP Pride, GEP Green, and more.
We are recruiting for both internships and entry-level consulting roles, for our Associate and Senior Associate positions. Learn more about current career opportunities and open positions on: www.gep.com/careers.
Specialism: Procurement and supply chain consultancy.
Company website & Career website: 
Website: https://www.gep.com/
LinkedIn: https://www.linkedin.com/company/gep-worldwide
Facebook: https://www.facebook.com/gep-worldwide
Twitter: https://twitter.com/GEP_Worldwide
YouTube: GEP Worldwide – YouTube
Company Size: 5000
Headquarter: Clark, NJ, USA
---
This event is on a first-come first-serve basis
Event date

Time

17:00 - 17:45

Type

Career
1, 2, 3, 4, 5

Location

Online

Price

€

0.00
You need to be logged in to signup for SMW events
Sold out