At the forefront of human progress
Dow (NYSE: DOW) combines one of the broadest technology sets in the industry with asset integration, focused innovation and global scale to achieve profitable growth and become the most innovative, customer centric, inclusive and sustainable materials science company. Dow's portfolio of performance materials, industrial intermediates and plastics businesses delivers a broad range of differentiated science-based products and solutions for our customers in high-growth segments, such as packaging, infrastructure and consumer care.
Dow operates 113 manufacturing sites in 31 countries and employs approximately 37,000 people. In the Benelux alone, Dow operates 7 sites; employing more than 4000 experts in research and development, manufacturing, finance, sales, logistics and related services. Being uniquely positioned within the triangle formed by Rotterdam, Antwerp and Terneuzen, it is one of the strongest chemical hubs in the world, and Dow Benelux plays a key role in the global chemical industry.
Picture:
Dow Benelux officially opened its new office, named "Terneuzen Diamond Center", in April 2019.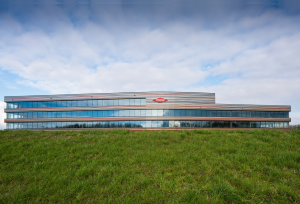 Be part of the conversation
Have you ever wondered what's coming next? At Dow, we ask this question every day. We're continuously interested in how science can enhance people's lives. That can mean discovering a new material or working with our customers to apply fresh thinking to the world around us. It can also mean using science to build an exciting career—with the opportunity to explore, exchange ideas, and make a meaningful difference on global challenges. Whether you're in customer service, finance, management, research, manufacturing or logistics, you can make the difference and help us shape the future.
Can you see yourself on the team?
We are innovative. We are passionate. We are Dow. We are looking for ambitious Master students who can bring their passion, expertise, and experience and help us shape the future. Can you see yourself in an environment where you can take on challenging projects, learn best practices, develop your skills and talents, and gain valuable industry experience? Then, you would be a great addition to our Dow team. We have a wide range of both technical and commercial opportunities for graduates, early career professionals and experienced candidates.
Why choose Dow?
Our global scale and scope offer the flexibility to pursue multiple careers within the company. We offer you a long-term adventure, daily rewards, and the opportunity to carve out your unique career path through moves within and across geographies, functions and businesses.
Rewards and recognition for strong performance
Competitive and comprehensive benefits packages
A creative, dynamic, and diverse and inclusive working environment
A workplace that thrives on continuous employee development
A pleasant and vibrant area in the Benelux to live and work
Dow is an equal opportunity employer
At Dow, we value the benefits that diversity brings. We seek the best talents, regardless of nationality, origin, race, color, religion, gender, sexual orientation, disability or age.
For more, visit careers.dow.com and www.workingatdowbenelux.com.